(CNN) -- One of three inmates who escaped from an Indiana maximum-security prison was captured Monday about eight miles away in southwestern Michigan, officials said.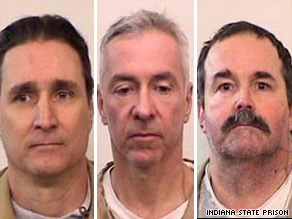 From left, Lance Battreal, Mark Booher and Charles Smith escaped from an Indiana prison Sunday.
Charles Smith, 48, who was serving time on a murder charge, was captured in Grand Beach, Michigan, said public information officer John Schrader of the Indiana Department of Corrections.
Smith escaped from the prison in Michigan City on Sunday along with murderer Mark Booher, 46, and rapist Lance Battreal, 45, Schrader said.
"It appears they escaped by traveling in tunnels under the prison grounds," Schrader said Sunday. "This is a very unusual occurrence."
Authorities were searching the area Monday where Smith was found to see whether the other two escapees also may be nearby, Schrader said.
Smith was sentenced in 1999 to a 95-year sentence for murder.
Battreal was sentenced in 1998 to 50 years for rape, criminal confinement and stalking.
Booher was sentenced in 1999 to 65 years for murder and robbery.